Every once in awhile I like to contribute.  Todays post is not about fat chicks, guzzling beer in Vegas, or my ever so helpful relationship advice.  Today I'm going to throw my sister under the bus.  Earlier today I was leaving her a comment on myspace.  Actually it was that video of the two toddlers getting owned by a bat.
Naturally, I had to wait a awhile for her page to load.  Being female = making your myspace front page a cluster fuck of images.  Why would anyone use the photo album option when they can cram half a dozen slide shows underneath a god awful playlist?
While I was waiting, I decided to scroll through her comments.  Shes got a truck load of hot friends and I will sometimes inform her that she needs to introduce me to the trampy ones.  So I began to rifle through the comments looking for sluts.
However, something else caught my eye and it gave me quite a chuckle.  Comments from guys trying to be smooth.  I might just start a whole new site dedicated to myspace fails.  A myspace fail is when a guy tries to be smooth on myspace via the comment option, and well…fails beyond belief.
Seriously, if you're saying shit like "xoxo", "baby", and "honey bear" on myspace you need to reevaluate your life.  Better yet; wrap a plastic bag around your head, duct tape the base, and watch the tuck scene from Silence of the Lambs.
I cropped out some of my favorites from her page, enjoy.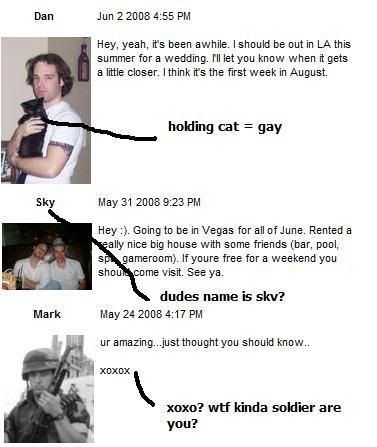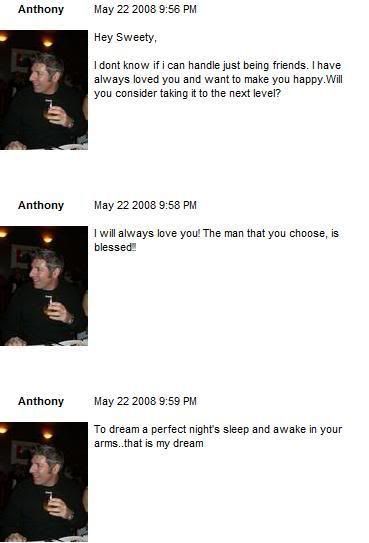 I know I'm somewhat of an asshole sibling for making this post, but when I see douchbaggery like this, its going public.